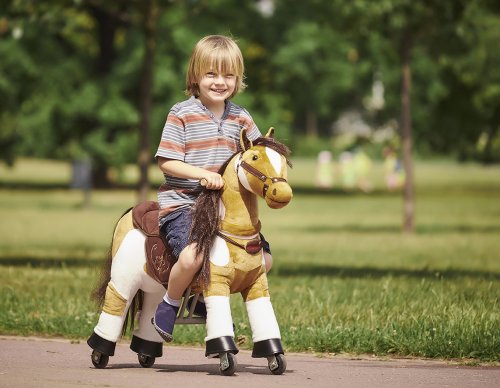 Ponnie is an ideal toy for all horse lovers.
The Ponnie horse on wheels is a guarantee of beautiful design and the highest quality.
Every single horse is thoroughly checked out and tested before being delivered to the customer. The outer surface of the Ponnie is made of a very durable fine plush, which has been detailed to gives each Ponnie a realistic look. The internal mechanism of the Ponnie is extremely durable with its sturdy steel construction. The quality that has gone into the making of each Ponnie lets every buyer know that the product will stand up well to frequent regular use, thus providing many years of trouble-free play.
How does it run?
Ponnie moves on wheels similar to those used on in-line roller skates.The horse starts to move as the rider moves up and down the saddle. The rider determines the direction of the horse's movement through the use of the handles mounted on either side of the head. Ponnie rides and moves smoothly over carpeting, tile, parquet and floating floors. The wheels are made from a colorless rubber, which prevents scratching and the marking of floor surfaces. Outside, Ponnie is best ridden on flat asphalt and similar types of surfaces. Ponnie has been designed for riding on smooth level surfaces. It doesn't have any type of mechanical braking system. When ridden on a flat surface, Ponnie shouldn't reach a dangerous riding speed.
Packaging and assembly – The horse is completely assembled; you only need to attach the head to the horse´s body, secure it with a split pin and pull the zipper.
Ponnie is available in three sizes S,M,XL and in two product lines – "H - family" and "PRO - professional".
H – a lighter version suitable for family use. Designed for both indoor and outdoor play conditions.
PRO – designed for use in amusement parks and children's playgrounds. The PRO product line is made of more durable materials suitable for heavier use in commercial operations. The supports for the feet in the PRO line are adjustable (two positions), depending on the size of the child.
The Ponnie product meets the rigorous certification requirements for toys.