Mechanical riding horse Ponnie Ebony S
Mechanical riding horse Ponnie Ebony S
---

Do your children long to own a noble Friesian horse? Fulfil their dream by buying this mechanical toy on which they can enjoy a ride just like on a real animal. It has a beautiful black coat of hair and a long fun-to-comb mane that can be braided and used for creating other original hairstyles.

✔ Premium quality with beautiful design.
✔ Products in stock are usually delivered within 4 working days.
✔ Free shipping!
More
Product code: H304 Shipping and Payment

Do your children long to own a noble Friesian horse? Fulfil their dream by buying this mechanical toy on which they can enjoy a ride just like on a real animal. It has a beautiful black coat of hair and a long fun-to-comb mane that can be braided and used for creating other original hairstyles.

✔ Premium quality with beautiful design.
✔ Products in stock are usually delivered within 4 working days.
✔ Free shipping!
More
Product code: H304 Shipping and Payment
The Ponnie horses move just like a live horses! Everyone wants to climb on and go for a ride!
Standard delivery time is 5 working days. Free shipping!
How do I set my horse in motion?
The mechanical Ponnie ride-on horse is set in motion by the rider repetitively moving up and down in the saddle. The rider determines the riding direction by turning the handles. The horse is driven forward solely by the rider's own movements. It has no motor, so it does not need any batteries to make it go.
What are the benefits of riding these horses?
Ponnie ride-on horses develop the motor coordination and balance of the child. When riding the animal, the child engages important muscle groups that are not usually activated, so the toy contributes to the child's healthy development.
Riding both outdoors and indoors
The horse has wheels made of colourless rubber (they look black because of the black internal plastic reinforcement), so it will not scratch or mark your parquet or floating floor. Outdoors, the animal can be ideally ridden on any hard, level surface, such as asphalt or interlocking paving blocks.
What makes Ponnie horses and other animals so special?
Ponnie ride-on horses and other animals have a modern mechanism that ensures they can be ridden smoothly. They are designed with a saddle that does not protrude from the horse's body, thereby not interfering with its appearance as in other similar products. Moreover, their body is noticeably bigger, so children will be able to use the animal much longer. Adjustable pedals make it possible to alter the horse to the exact needs of your child.
Ponnie S (3-6 years) vs. Ponycycle S (3-5 years)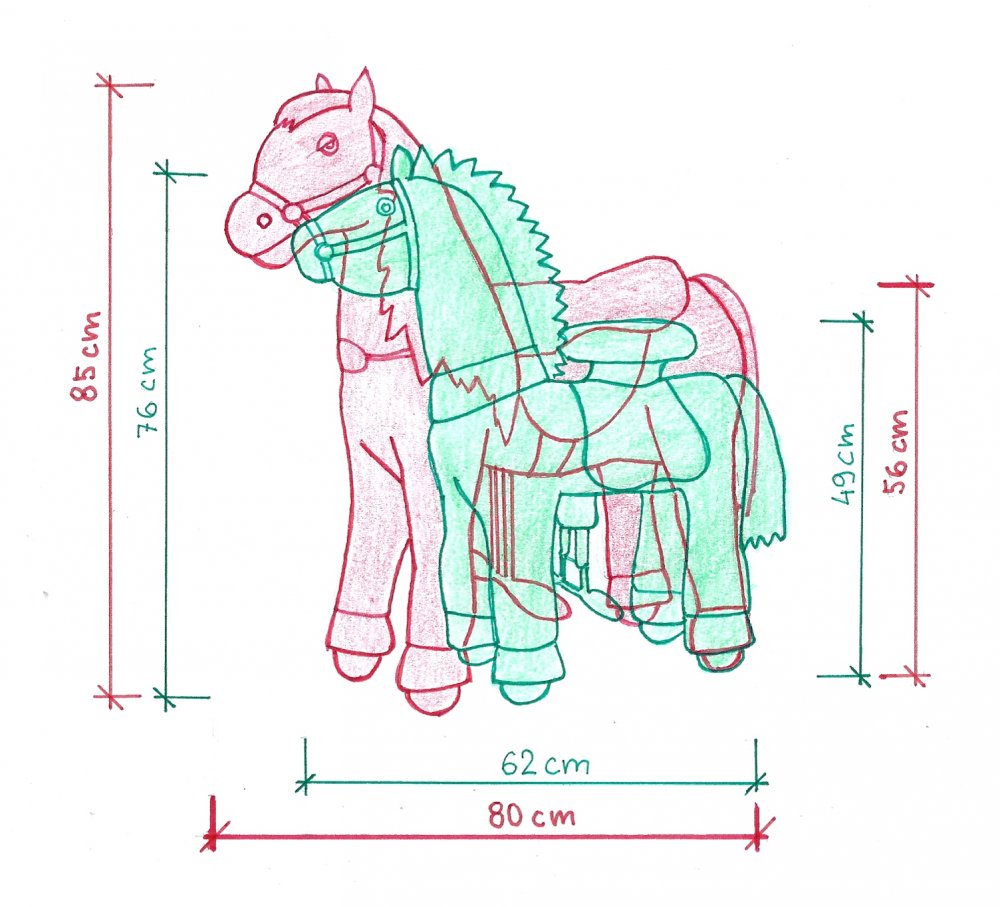 Another advantage is the option to remove the saddle, so you can saddle the Ponnie horse just like a real one. The mane and tail can be combed and braided.
The look of these horses was designed by the Czech graphic designer and toy creator Olga Smidova.
Ponnie horses are top quality toys that meet the strictest international certification requirements for toys. All horses come with a 2-year warranty, and you have the option to return unused goods within 14 days.
You can also buy your little horse some chic clothing, and new apparel for the rider too.
Advantages of Ponnie ride-on animals in a nutshell
Modern mechanism –⁠ ensures the horse's smooth movement.
Purely mechanical toy –⁠ no batteries needed.
Mane and tail that can be combed – you can braid the horse's hair.
Adjustable pedals – alter according to the child's height.
Removable saddle and collar with bridle –⁠ you can saddle the horse before you ride.
Colourless rubber wheels –⁠ do not scratch or mark any flooring.
Robust metal structure, high-quality materials and workmanship –⁠ guarantee a long lifetime for the product.
Handles of hard wood –⁠ no plastic.
Pedal shape –⁠ provides comfortable foot support.
Detailed information
This ride-on horse in size S is intended for children 3–6 years old.
Rider's weight: min. 11 kg and max. 30 kg.
Recommended rider's height: 90–120 cm.
Distance between the saddle and pedal: 39–45 cm.
Product dimensions (L ​​× W × H): 80 × 30 × 85 cm.
Saddle height: 56 cm.
Net weight: 7.1 kg.
Box dimensions: 55 × 29 × 56 cm.
Gross weight: 8.3 kg.
Ponnie animals are delivered fully assembled. Simply attach the head and zip it up.
The product packaging does not disclose what is inside the box. So the surprise is not spoiled if the child sees the box.
Safe shopping in our e-shop
We have been awarded a prestigious Trusted Shops certificate for secure shops.