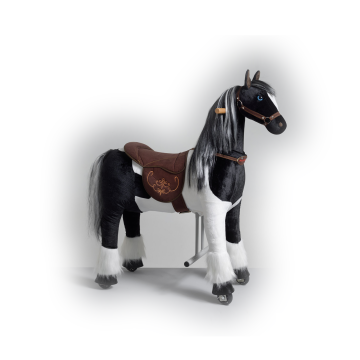 Fulfil your children's dream of having their own horse, even if you do not have enough room for a real one. The Ponnie ride-on horse will captivate every girl and boy, becoming a fun companion for their active moments. Since it is a purely mechanical toy on wheels, you do not need any batteries to ride it. It is set in motion by the rider repetitively moving up and down in the saddle, just like when trotting on a real horse. Which means the ride-on horse motivates the child to move. more++
The fun-to-comb mane and tail make it possible to create various hairstyles, including braids. The strong structure of the plush horse ensures a long lifetime and riding stability. You can choose 3 sizes: an S (for children aged from 3 to 6 years), M (for children aged from 5 to 12 years) and XL (for children aged 9+ years as well as for adults).
Ponnie horses are made in two product versions. The basic H category consists of lighter-weight toys suitable for family use. The PRO category is intended for commercial use in amusement parks and children's play areas.